HAMMERIN' HAWKS VBC
2022/2023 Tryouts:
9-11 Tryout form - Link is live now to sign up 2022 (11/4) - Tryouts moved to middle school (11:30-1:30) Sunday 11/13
4th-8th Tryout form (Link is live for 2022/2023 tryouts)
2022/2023 HHVBC Tryout and Team information
Due to school construction and not allowing outside entities to rent facilities at this time we will be having the HHVBC tryouts at the Rec Center. The dates are still the same: SUNDAY Oct 23rd, 2022 for 4-8th grade and SUNDAY November 13th for 9-12th grade (HS age teams link is NOT live yet, please check back after 4-8th tryouts for this LIVE LINK). Please see West Delaware Volleyball website for specific tryout times and sign-ups- ALSO CHECK IT RIGHT BEFORE TRYOUTS AS WE ONLY HAVE RENTAL FROM 1130-430 PM ON OCT 23RD..PLEASE COME AT THE APPROPRIATE TIME LISTED ON THE WEBSITE, NO EARLIER-YOU WILL BE ASKED TO WAIT OUTSIDE. We will have the Website updated as soon as possible but PLEASE check the day of tryout for last minute changes!

Sunday Oct 23rd TRYOUT TIMES:
8th Grade: 11:30-12:45
7th Grade: 12:45-2:00
6th Grade: 2:00-3:15
5th Grade: 3:15-4:30

*NOTE: All girls wishing to 'try-up' one grade level as determined by you filling out registration form as 'I wish to try-out for a team I am most qualified for' must attend BOTH sessions (their current grade and the grade above). To be clear, if you do not attend both tryouts but wish to try up, you will automatically be placed on a grade level team regardless of how you filled out registration.

**4th Grade note: this season due to reasons stated above, we feel it is best to form teams based on numbers interested and not have try-outs for them (i.e. athletes will be placed on teams randomly and blindly selected as evenly as possible-by numbers, not based on any perception of skill). The exception comes IF the 4th grader wishes to try up for a 5th grade team in which case that 4th grader MUST attend the 5th grade tryout time slot and be registered as such online.
Reminder: We are asking that you pre-register this year on the Google Form found on the above stated WD Volleyball page. This is particularly important this year as we are using the Rec Center, they have rules and regulations that we must follow and will help with the flow of check-in of athletes so as not to block the entrance of the facility. (See Below)
Lastly, please be flexible and patient with us. We are doing our very best to give your daughters an opportunity to play volleyball locally. Our Board members are ALL VOLUNTEERS who love the game and wish to pass that love on to others. On the day of tryouts(or anytime during the season), if issues arise, please seek us out first so we can work together to find a solution. We are always open to suggestions and other volunteers.
Rec Center regulations:
1) Athletes are to remain in the space rented ( Volleyball side of the gym) they are NOT allowed to warm up or play VB on the Basketball side.
2) Athletes will be allowed to use locker rooms and restrooms within the locker rooms. Please leave the Hall bathroom for members and be considerate of members who are also trying to get to their lockers in the locker room..
3) Non-helping Parents will NOT be allowed in the gym with athletes, nor will they be allowed to congregate on the second floor to watch. IF the parent is a member and is using the facility then please use the facility and do not congregate and stand and watch-doing so could disrupt/obstruct the flow of the walking track upstairs and will not be tolerated by Rec Center staff- you may be asked to leave.
5) any and all questions regarding the tryout need to be sent to HHVBC NOT the Rec Center-they are only allowing us rental of the facility, they do not know anything other than the time we will be there.
7) Athletes found to be warming up or ball handling in the halls, locker room or other side of the gym (Basketball side) which is not being rented WILL BE ASKED TO LEAVE. Remember the Rec center has regular business hours going on during our rental and we need to be respectful of this.

2019 Hammerin' Hawks Scrimmage Picture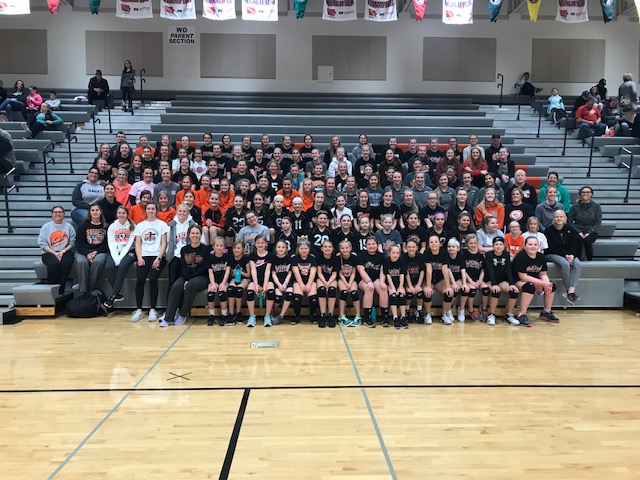 Printable DOC Information Document:
2021/2022
Hammerin' Hawks
USA Volleyball Club
2008 Outstanding Iowa Region Junior Program Award Winner

Junior Outstanding Leader Award Winner (Rayne Cook, Dani Sweet, Mackenzie Harbaugh, Jessie McDonald)

2013 Junior Outstanding Leader  Award Winner: Mick Neverman

HAMMERIN' HAWKS WEBSITE: www.westdelawarevolleyball.com
Board of Directors: Brett Mather, Shea Putz, Amy Lyness, Angie Peyton, Haley Lyness, Ron Weber, Julie Mather, Cassie Vaske.
Hammerin' Hawks VBC is an organized club which provides local athletes, within the West Delaware County Community School District, the opportunity to play club volleyball. Each team usually consists of 7-10 players.
VOLUNTEERS NEEDED:
Each year volunteers are needed to coach and help operate our club. The coach's role involves setting up practice times (usually 1-2 times per week), registering your team for tournaments, making sure all the necessary paperwork is filed properly, and being knowledgeable about the game of volleyball.
 THIS SEASON:
We plan to provide mentor coaches to help more volunteers become knowledgeable about the game of volleyball and become better prepared to run a team. Ask a board member for more information.
CLUB VOLLEYBALL COSTS;
The cost of the tryout session is $60. $15 of this goes directly towards your child's team expenses and $45 to the HHVBC. If your child does not make a team or we do not find a coach for your team, we will refund $45. Please do not tryout unless you are serious about playing club volleyball. If your child chooses not to play on the team she makes, the club will keep the $60. The proceeds go to the club to help offset some of the costs (balls, bags, first aid kits, coaches, etc.). The overall cost to participate in club volleyball will vary, depending on the number of players on your team and the number of tournaments that your team enters. It will also depend on how much fundraising your team may do to offset these costs.
Approximate Individual Costs will typically range from $170 – $210.
$50. USA Individual Membership Dues.
$35. Uniform jersey
$85 - $125. Cost for tournament entry fees.
Our club to date has primarily relied on volunteers to run the program. However as a means of improving the program and ensuring we have the personnel needed to accommodate the number of interested athletes, it is necessary to offer compensation to coaches.
TRYOUT PROCEDURES:
Several volunteers will conduct an evaluation session for each age level. The athletes will be evaluated on all skills involved in the game of volleyball (passing, setting, serving, etc.). Each player will then receive a score on each skill necessary to play volleyball. The number of players that tryout, along with the number of people willing to coach will determine the number of teams at each age group.
CURRENT 8th GRADE & UNDER TRYOUTS:
Players who are in 7th or 8th grade and wish to try out for the 8th grade 1's team must state on their tryout form the position(s) they intend to compete for. Players competing for this team will still try out for all skills however the team will be selected based on their positional scores, not their overall score to form the best all around team. All players will be given an overall score based on all evaluations. These scores will be used to pick each team, with the exception of the 8th grade 1 team. Players in all age divisions must state on their tryout forms the age divisions(s) they wish to try out for. Players will only be able to move up one grade level in this tryout.
HIGH SCHOOL TRYOUTS: (Current High School Students)
Current 8th grade students will NOT be able to try out for this division. Players trying out for the 9 – 12 grade teams must state on their tryout form the position(s) and grade division the intend to compete for. Players in this division will still try out for all the skills however teams will be selected based on their positional scores to form the best all-around team. Also, any high school player wishing to tryout MUST have played in the previous high school season.
PRACTICES:
Practices will start in late November or early December. Each team will practice approximately one to two times per week, with the times and days up to each individual coach. Athletes are expected to make practices / games a high priority. Coaches will do all that they can to ensure that the practices do not interfere with other activities.
SCHEDULE:
Tournaments begin in early January and may go through the middle of April. The coaches and parents will determine the number of tournaments and location of each tournament. The younger age groups typically enter 4-5 tournaments and the older levels 8-10 tournaments.
******15th Annual Hammerin" Hawks Club Scrimmage******
Monday, December 23, 2019
4:00 – 9:00 P.M. Bill Seedorf Gymnasium, West Delaware High School
2021/2022 CLUB VOLLEYBALL TRYOUTS:
Location: West Delaware High School
Grades 7 & 8
Sunday, October 24, 2021
12:00 P.M. – 4:00 P.M.
*****Any 6th grader who wishes to try up one grade level needs to attend both sessions. (NO EXTRA TRYOUT FEE).
Grades 4-6
Sunday, October 24, 2021
4:30 – 6:30 P.M.
Grades 9 – 12
Sunday November 14, 2021
12:00 P.M. – 4:00 P.M.
*****Any high school player wishing to tryout MUST have played in the previous high school season.*****
All athletes need to attend the tryout of their grade group.
USA VOLLEYBALL WEBSITE: www.iavbreg.org
Home of the 2021 & 2015 State Champions
2020, 2014, 2010 2006, 2004, & 2003 State Runner-Up
2019 & 2007 State Semifinalist
2018, 2013, 2012 & 2008 State Qualifiers